Arie Luyendyk Jr. and Lauren Burnham officially engaged | Season 22 of The Bachelor ends
Published Date: 8th March, 2018 @12:03 PM
Season 22 of The Bachelor is officially over and so are Arie Luyendyk Jr. and Lauren Burnham engaged. On Tuesday's special of The Bachelor Arie and Becca Kufrin reunited for the first time after he called off their engagement. During the show's finale, Arie had shocked the fans when he broke up with his fiancee Becca in hopes to reunite with the runner-up Lauren Burnham. Arie and Lauren then got engaged on After the Final Rose on Tuesday. Lauren gave Arie a second chance after he went to visit her at her parent's house in Virginia Beach after his break up with Becca. Aire got down on one knee and proposed to Lauren on the live special while Becca was backstage. The engagement ring was a giant 3.65 diamond Neil Lane Ring, Lauren naturally said yes and now the lovebirds are engaged they've started getting ready for the wedding.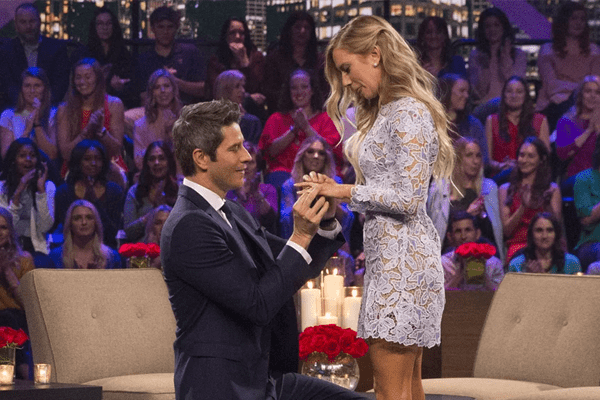 Image Source: Popsugar
After Aire's breakup with Becca, he reunited with Lauren. And chose to propose her with the ring. The 3.65-carat diamond ring featured cushion cut stone and halo of diamonds. The ring comprises of 170 smaller round diamonds and two baguette diamonds. The ring Designer Neil told E! News that it was the most intricate design done The Bachelor.
.@NeilLaneJewelry has arrived. #TheBachelorFinale pic.twitter.com/sr9JJg4Yi9

— The Bachelor (@BachelorABC) March 6, 2018
Newly engaged Arie told People that they've been planning their wedding before the engagement and want it to be very quickly. The two have considered filming their wedding but haven't confirmed whether it will actually happen. They want good lightings and lots of flowers in their wedding. Well, the newly engaged couple took on the set of Jimmy Kimmel who sure had lots of questions for Bachelor Aire and his new Fiance Lauren. After a dramatic season finale where Aire leaves Becca whom he originally proposed, to be with Lauren. In the Show Aire talks about his wedding plans and what led to change his heart. Jimmy sure does roast the Bachelor as it's the sole craft he posses. Newly engaged Lauren Burnham took to her Instagram to post a cute photo of the couple together in New York. Her caption reads it's all worth it because I have you.
IN Words Season 22 of The Bachelor is officially over and so are Arie Luyendyk Jr. and Lauren Burnham engaged. On Tuesday's special of The Bachelor Arie and Becca Kufrin reunited for the first time after he called off their engagement. During the show's finale, Arie had shocked the fans when he broke up with his fiancee Becca in hopes to reunite with the runner-up Lauren Burnham. Arie and Lauren then got engaged on After the Final Rose on Tuesday. Lauren gave Arie a second chance after he went to visit her at her parent's house in Virginia Beach after his break up with Becca. Aire got down on one knee and proposed to Lauren on the live special while Becca was backstage. The engagement ring was a giant 3.65 diamond Neil Lane Ring, Lauren naturally said yes and now the lovebirds are engaged they've started getting ready for the wedding. Image Source: Popsugar After Aire's breakup with Becca, he reunited with Lauren. And chose to propose her with the ring. The 3.65-carat diamond ring featured cushion cut stone and halo of diamonds. The ring comprises of 170 smaller round diamonds and two baguette diamonds. The ring Designer Neil told E! News that it was the most intricate design done The Bachelor. [email protected] has arrived. #TheBachelorFinale pic.twitter.com/sr9JJg4Yi9 — The Bachelor (@BachelorABC) March 6, 2018 Newly engaged Arie told People that they've been planning their wedding before the engagement and want it to be very quickly. The two have considered filming their wedding but haven't confirmed whether it will actually happen. They want good lightings and lots of flowers in their wedding. Well, the newly engaged couple took on the set of Jimmy Kimmel who sure had lots of questions for Bachelor Aire and his new Fiance Lauren. After a dramatic season finale where Aire leaves Becca whom he originally proposed, to be with Lauren. In the Show Aire talks about his wedding plans and what led to change his heart. Jimmy sure does roast the Bachelor as it's the sole craft he posses. Newly engaged Lauren Burnham took to her Instagram to post a cute photo of the couple together in New York. Her caption reads it's all worth it because I have you. It's all worth it, because I have you. #teamlarie