Anne-Marie Net Worth
Published Date: 11th October, 2017 @01:10 AM
Anne- Marie has blown the mind of million fans and music lovers by her sensational song 'Friends'. This song is also said to be a Friendzone theme song. Earlier, she got the fame from the Clean Bandit's song 'Rockabye' that was included in UK Singles Chart. Furthermore, this song also featured Sean Paul. In fact, Rockabye is a most successful song sung by her as it was listed UK Christman number one in 2016.
A songwriter and Singer, Anne- Marie got fame along with millions of fans from her singing. Not to mention, it is the only profession she is engaged in, and it is the vital source of income that adds to Anne-Marie's net worth of $5 million. Furthermore, few singles like Alarm, Ciao Adios, Heavy, Then and Friends are already released and hitting the charts.
Childhood and Education
Anne- Marie was born as Anne-Marie Rose Nicholson in Essex, England on April 7, 1991. Her father Wayne The Mod (according to Twitter) was born in Ireland while mother was from Essex. She was raised in a village known as East Tilbury. When she was six, Anne appeared in West End Productions Les Miserables and Whistle Down the Wind when she was 12.
At the age of nine, she practiced karate and importantly she won double gold in 2002 and gold and silver in 2007 Funakoshi Shotokan Karate Association World Championships. She also appeared in Palmer's College in Thurrock. Then in 2013, Anne-Marie gave a demo for Summer Girls for Rocket Records. In 2015, she sang four tracks from the album We the Generation.
Career
On June 10, 2015, Anne-Marie released her first EP, Karate inspired by her background of being triple world champion in Shotokan. Then in November, she released Do It Right which listed number 90 on UK Singles Chart..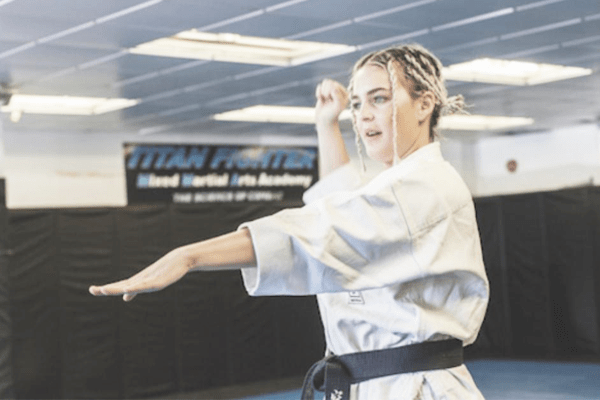 Caption- A picture snapped from the music video of Karate. Image Source- Noisey- Vice
In 2016 May 20, she released her first single, Alarm from her debut album, Speak Your Mind. And in October, she was featured in Clean Bandit's Rockabye as the main vocalist alongside Jamaican Rapper, Sean Paul. The song Alarm earned a venerated certificates Like BPI Platinum, FMI: Gold, MC: Gold and two times ARIA platinum. Importantly, more than a million copies were sold. On February 10, 2017, another single, Cia Adios was released from the album that hit the chart at number nine spot. Then in September, Heavy was released and reached top 40 in the UK.
Afterward, 'Then' was released in December as the fourth single of the album. This song reached number 87 on the UK Singles Chart. On February 9, 2018, fifth singles, Friends from the album was released. This song also features the American DJ, Marshmello. Just in a few days, this song became top ten songs in the UK, Ireland, and Hungary. Furthermore, Friends became her first song to rank in the US Billboard Hot 100 as it has peaked number 28. Other songs from the Album includes Cry, Trigger, Bad Girlfriend, 2002, Can I Get Your Number? And Machine.
Anne Marie Net Worth and Earnings
It is known to very fewer people that Annie-Marie is a manager at Rocket Music Entertainment Group. The company was founded by Elton John and focuses on a business that manages the artists. It offers support to its client and employs managers from the artistic background. Anne Marie has an estimated yearly YouTube earning of $2.5 million and her Net Worth soares upto $5 million as of 2018.
Furthermore, her mainstream source of income is earnings from her concerts and tours. For Instance, On March 28, 2018, she flaunted her magical voice in Amsterdam, Netherlands and then in Schijndel on March 30 and 31. With the success of song Friends, she is definitely being paid high for the concert.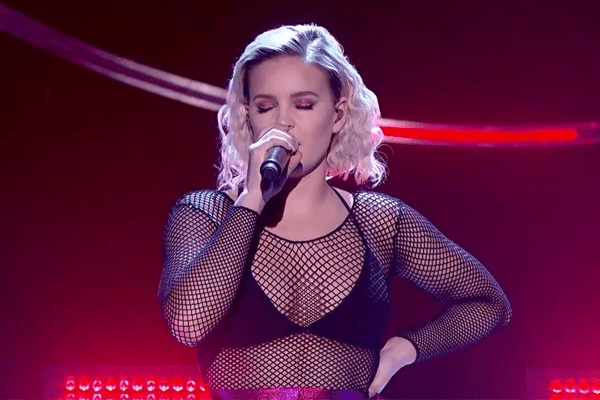 Caption- Anne-Marie sings in a concert at Pinkpop in 2017. Image- YouTube
Annie's YouTube Channel is another source of income that accumulates her fortune. According to Social Blade, her YouTube Channel has 2,583,276 subscribers and 524,324,022 video views as of July 22, 2018. She made estimated monthly earnings of $15.1K - $241K and estimated yearly earnings of $180.8K - $2.9M. Undoubtedly, her earning from concerts and YouTube channel makes her a Young millionaire. Moreover, she is a businesswoman as well. She is an owner of an online shopping site. And the site sells various assets and accessories.
Relationship
Beautiful and glamourous Anne- Marie's fame has grown her fan following, and surely there are millions who are willing to be in a relationship with her. She has been a friend of music stars like Jessie J, Ed Sheeran and James Argent. But the lucky person whom she is dating has not yet revealed to the public.
Although, she has given a hint that suggests she have a boyfriend. According to The Sun, Marie said that she is in a relationship with a famous music star. Anne- Marie also said that he (boyfriend) is quite unknown to the world, but he is in music. Well, fans are eager and tempted to find out about Anne- Marie's boyfriend.
Stay tuned to ArticleFirm for more Celebrity Biographies.