Women Protest Across The World in International Women's Day 2018
Published Date: 8th March, 2018 @12:03 PM
Photo Source: theguardian
International Women's day is celebrated for women's achievements in many aspects of society such as social, economic, and cultural. However, women are still deprived of many rights. On this particular day, women have come together and raised their voice and concern on this issue. On March 8, 2018, Indian prime minister Narendra Modi has tweeted about
International Women's Day about how women inspire generations.
More than 63 million women are missing in India, statistics show, and more than 21 million girls are unwanted by their families, as officially announced by the Indian government. The sudden change in the ratio of women is the largest result of sex-selective abortions, and better nutrition and medical care for boys. According to the government of India, the economic survey was released on Monday. However, the survey found that "families, where the son is born, are likely, whereas, most have stopped the birth of girls". The challenge of gender is long-standing and are probably going back millennia. The chief economic adviser and report's author Arvind Subramanian, said India must "confront the societal preference for boys." Moreover, the women in Asia are marching and demonstrating kick of rallies around the world to mark IWD, as per Associated Press reports. Where hundreds of activists in pink and purple shirts are protesting in the Philippines against President Rodrigo Duterte, as they said the worst violators of women's right is in Asia. Later, a rally for the rights of female workers was scheduled for central Seoul in South Korea in Thursday. Where a rapid spreading Metoo movement is galvanizing support for women's issues. Women in Nepal are marching to mark IWD, as thousands of women's took part, calling for social, economic and political equality.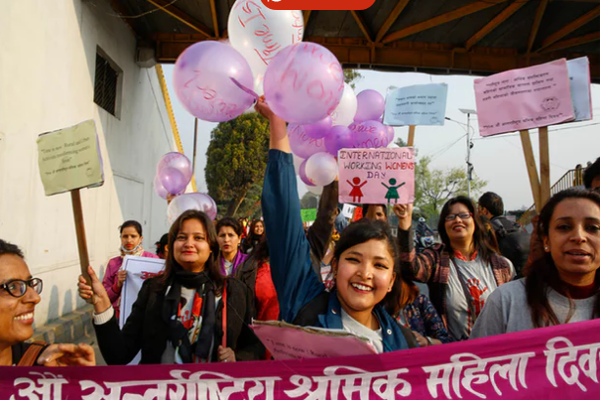 Women in Nepal marching International Women's Day. Image source: The Guardian. In an Interview, the South China Morning Post, CEO of Hong Kong's Women's Foundation, Fiona Nott says,
In the workplace women are earning on average 22% less than men. A gap is being wider than a decade and wider than Singapore, the US, Britain and Australia. Women are representing only 13.8% of Hang Seng Index company boards, that is just half of the 26% in the UK. Women represent just 29% of management positions, that is worse than Malaysia, Canada, the US and Australia. Women make up 85% of single parents that are living in poverty. 30% of women are drop out of the workforce due to caring responsibilities.