Harris Faulkner
Published Date: 13th August, 2013 @11:08 AM
Quick Facts
| | |
| --- | --- |
| Date of Birth | October 13, 1965 |
| Nationality | American |
| Profession | TV Presenter |
| Working for | FOX |
| Ethnicity | African-American |
| Marital Status | Married |
| Spouse | Tony Berlin |
| Married on | 2006 |
| Children(s) | Bella (6) and Danika (3) |
| Qualification | Graduation |
| Education at | University of California |
| Net Worth(s) | N/A |
| Divorce | Not at |
| Height | 5.9" |
| Weight | N/A |
| Age | 57 Years |
Harris Faulkner born as Harris Kimberly Faulkner is one of the enticed American Newscaster and Host for FOX News. Furthermore, she is a former anchor of the show Outnumbered and currently, the host of her own show Outnumbered Overtime. Faulkner was born at Fort McPherson in Atlanta, Georgia in October 1965. Father Bob Harris and mother Shirly Harris were extremely happy parents. As of now, she is well-known and praised journalist at FOX News. But she once worked as a writer for $50 per article. Faulkner is a mother of two children and a loving wife of husband, Tony Berlin. In her office room, we can see the pictures of her family, six Emmy awards resting above her bookshelf. Undoubtedly, she is an enticing personality, and she cares and loves the people and things around her.
Harris Faulkner's father, Bob was a retired Lieutenant Colonel of the USA plus an Army Aviator. During her childhood, she lived with her father and mother, Shirly. Moreover, she had to migrate while she was child including Stuttgart, Germany. Six-time Emmy award winner, Harris completed her graduation from the University of California, Santa Barbara and have a degree in business economics and mass communication. After finishing her education, she discovered her interest in writing. And fortunately, she got the job of a freelance business writer for L.A weekly. Furthermore, for writing, she was getting $50 per article. This was the door of opportunities for her, and she grabbed those with two hands.
Harris was already in Journalism sector as she was writing for L.A weekly. Initially, she did the internship at KCOP-TV located in L.A. After an internship; she moved to WNCT-TV to work as a reporter and anchor in North Carolina. In her early career, she was a victim of harassment and stalking from the man (ex-boyfriend) following her from North Carolina. Then she moved to Minneapolis- Saint Paul at KSTP-TV as an anchor and left the Network in 2004. In fact, she got her first Emmy for Best Local Anchor, and this was where she met her husband, Tony. Afterwards, she joined 20th Century Fox's 4A Current Affair as a correspondent and a substitute host in 2005. Afterwards, she presented FOX News Live, FOX News Extra and was also a substitute anchor on The Fox report. Finally, she became one of the co-hosts on the daytime show Outnumbered in April 2014. Currently, she is one of the top hosts at FOX News as she hosts her own show Outnumbered Overtime with Harris Faulkner. Moreover, the show gets 1.6 million viewers every day. Harris Faulkner's net worth certainly increased due to her successful career.
Harris Faulkner as an Author
No doubt, Harris is a person with vision. Along with her struggle with career, she also had to face harassment and stalking. And she has included all her understanding, feeling and a lesson in her book Breaking News: God Has A Plan . The book was published on November 1, 1999. And the book is available on Amazon at just $15.91 for the hardcover. Though this book was published 19 years ago, still the story resides in the heart of million people.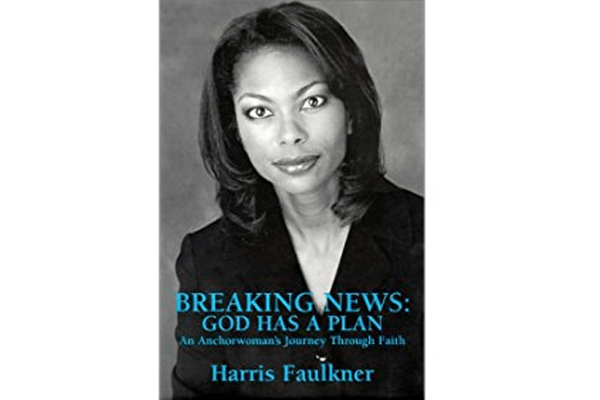 Harris Faulkner is an author as well. Harris Faulkner's net worth includes her earning from book sales too. Image Source- Amazon
Net Worth
As mentioned earlier, she is an author of a book. Surely, earning from bookselling adds to Harris Faulkner's net worth. Also, she is an anchor of a show at FOX News. According to Glassdoor, anchor or reporter at FOX News is paid an average salary of $45,265 annually, and the salary can range from $43,298-$47,235. So, she might also get the similar salary or even more as she is experienced. So, the salary from anchoring at FOX News is included in Harris Faulkner's net worth. Since her, show Outnumbered Overtime has 1.6 million average viewers daily. Surely she gets much more than just salary. For instance, bonus, incentive, allowance and compensations. As a whole, Harris Faulkner's net worth reaches approximately $4 million. Furthermore, in 2015, she sued the toy manufacturer, Hasbro for $5 million. And Hasbro was sued for producing a plastic toy Hamster that posses her name and likeness.
Car and House
As Harris had become a part of FOX News, she and her husband moved near New York City. Six-time Emmy winner, Harris spent two days, Monday and Tuesday, of the week with her family in the house. Also, the family visits different location as short tours.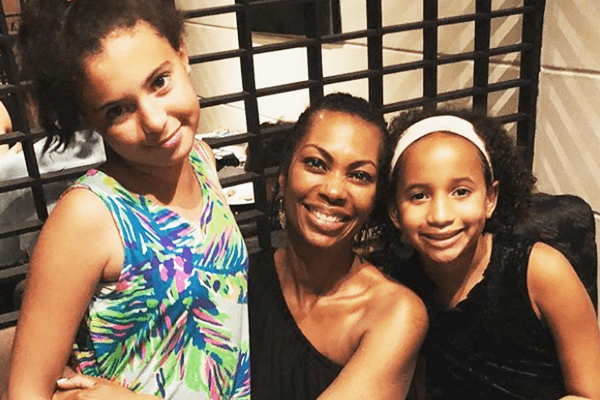 Harris Faulkner with her daughter at her house in New York.
Image Source- Instagram
Harris also has a car as her fortune. She loves her car and drives whenever family goes on trips, or she has to attend some functions. Also, her car is one of the places to spread awareness. Here is the short video from her Instagram Account, where she is blowing kisses to about a million students in their classroom. And she also mentioned that a million would follow her lead in singing the national anthem.
Marriage
Harris is married to former host and cinematographer, Tony Berlin. The couple met when she was in Minneapolis to receive her first Emmy Award. And the couple instantly fell in love and decided to tie the knot in 2003. The romantic couple took the wedding vows in the wedding dresses and finally kissed and sealed the marriage.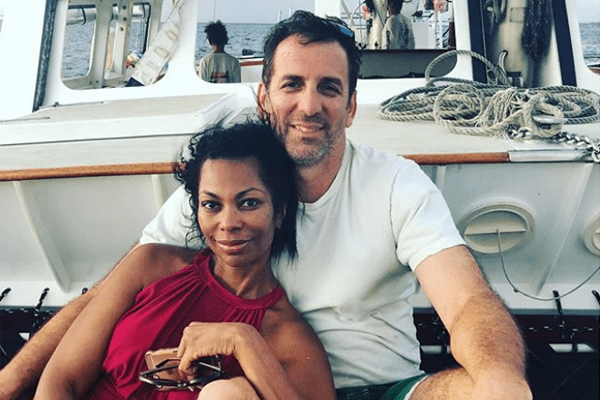 Harris Faulkner with her husband, Tony in Barbados. Image Source- Instagram
The happy pair was first blessed with a baby girl, Bella in 2007 and then another baby girl, Danika was born in 2009. The adorable couple has great chemistry as they are together since 2003. Harris Faulkner's husband, Tony too is a great father and loving husband. Harris Faulkner's family goes in Hiking each year along the Hudson River to the historic Little Red Lighthouse.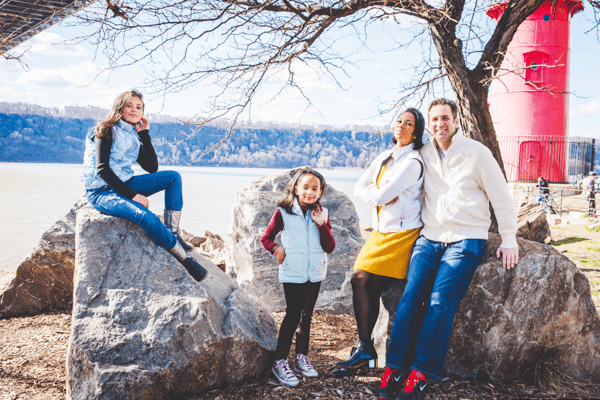 Harris Faulkner's family goes on hiking along the Hudson River to historic Red Lighthouse.
Image Source- FOX News
Occasionally, Harris flaunts her shimmering diamond-like or maybe diamond ring on her Instagram account. Perhaps, the ring she is wearing is the wedding ring or the ring gifted by her husband. But the ring really looks expensive and is adorable.
Stay connected with ArticleFirm for more Celebrity Biographies